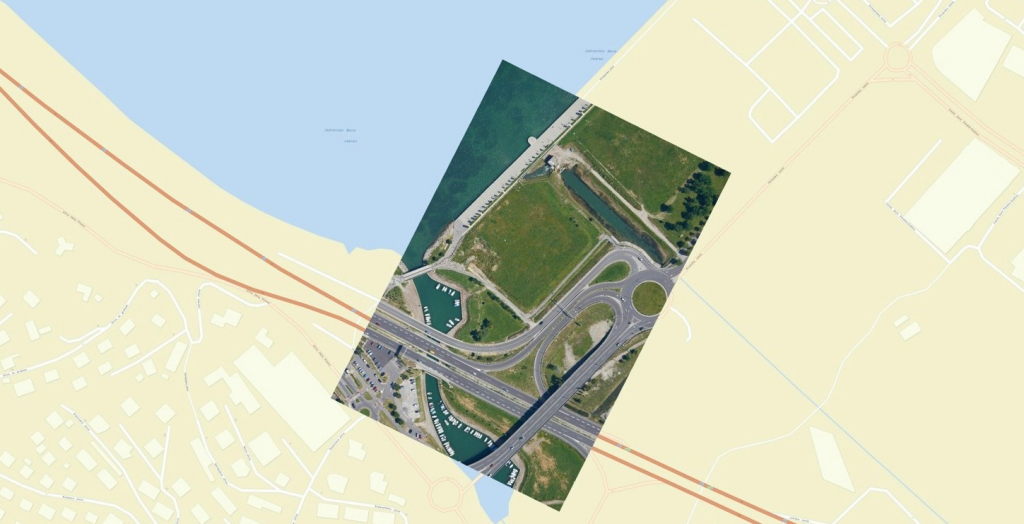 Georeferenced aerial photo
In an earlier post, we discussed Ground Control Points  as a primary method of obtaining survey grade accuracy from drone mapping. The photogrammetry/mapping software (such as Pix4d Pro Mapper) uses these GCPs to make adjustments to the project to obtain survey grade accuracy. However, this method requires laying out and precisely geolocating numerous control points. Using GCPs requires a decent amount of preparation work. Depending on the terrain and/or the size of the project, the GCP method could be very impractical, difficult and time-consuming.
There is a way to minimize or eliminate the need for ground control points, thereby reducing cost. A much more convenient alternative to GCPs called GPS Correction Technology.
GPS correction technology
GPS correction technology enhances the quality of location data by using global position system receivers to produce precise, accurate data. It's a technology that's been used with different tools on the ground for years. Only recently has it been offered as an add-on to a survey drone for survey-grade photogrammetry.
Today, there are currently two technologies driving the conversation around GPS correction technology – Real Time Kinematic (RTK) and Post Processing Kinematic (PPK):
Real Time Kinematic (RTK) is a GPS correction technology technique that provides real-time corrections to location data when the survey drone is capturing photos of a site.
Post Processed Kinematic (PPK), another GPS correction technology technique that works to correct location data, except in the cloud after the drone data has been captured and uploaded.
When you fly a non-RTK drone with an onboard GPS receiver or a receiver along with the camera, you get camera positions calculated from satellites, meaning their positions were identified by several distance measurements. Normally, you will encounter an inaccuracy up to several meters, depending on the equipment quality and the satellite geometry.
With a data-link connection, such as GSM or Wi-Fi, a RTK drone will connect to a base station or a virtual reference station (VRS) via the laptop which controls the flight. The camera positions are calculated in real-time, referring to these ground reference whose location is accurately measured for a long period of time. The calculation helps correct the camera positions up to 2 to 3 cm of accuracy, both horizontal and vertical.
However, things do not always work perfectly. When it comes to aerial mapping, RTK positioning can have its downsides, with radio link outages and GNSS signal blocks. Due to the long distances between the drone and the base station, signals can be obstructed and this results in loss of correction data and a lower percentage of accurate camera positions in the flight. These problems lead to a big uncertainty of the corrections. The accuracy will again be tens of centimeters for RTK-float, or even up to meters of accuracy as you would get from non-RTK flights. In this case, you can perform the computation referring the ground reference afterward with a PPK drone.
PPK, on the other hand, processes the positioning information after the flight, not during. Data is logged in the aircraft and combined with data from the base station when the flight is completed. As a result, there is no risk of data or initialization loss due to radio link outages. The processing is similar to RTK, however PPK is a little more thorough as it traces back and forth through the data multiple times to give more comprehensive results.
Comparing RTK and PPK
Basically, the main difference between the RTK and PPK is when this positional correcting takes place. RTK corrects during the flight, and PPK corrects after the flight.
Both these technologies are very similar, however, PPK has a decisive advantage — because of its robustness and consistency.
RTK drones require a very specific base station and other pieces of equipment that work together in order to process data in real-time.
PPK drones offer more flexibility in terms of the actual flight of the survey drone meaning you have more freedom of how and where the drone is deployed. PPK can deliver more reliability and longer range from the base station to give users greater flexibility.
There is an advantage of using RTK/PPK drones over non-RTK ones if you do not plan to apply any ground control points (GCPs) due to some on-site limitation or the painful measuring procedures. The result of both systems is already georeferenced aerial photos, which can be directly used for the construction of cloud points, digital 3D earth models (DTM, DSM etc.) and further for orthophoto mosaics.