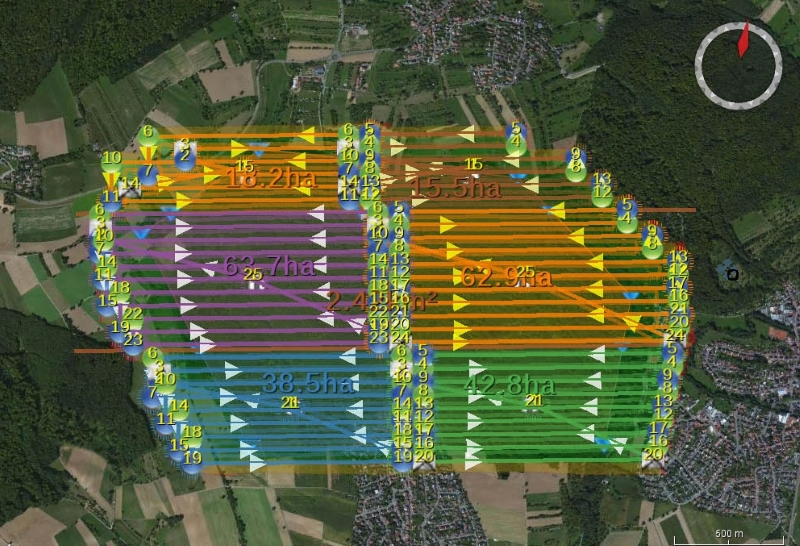 Mapping large areas requires the right equipment, software and plenty of planning. Large areas pose a unique set of challenges including maintaining a line of sight, optimizing battery life, collecting and organizing large amounts of data, and ensuring safety across such a large area. And extra care must also be taken to produce a cohesive, high-quality map without blurred images or gaps in coverage.
However, by taking the extra time to plan properly, equip properly and not rush through the execution, most major issues can be avoided. Professional drone operators have a precisely defined working procedure from airborne preparation, flight operation to safe landing to perform work in the air. In the case of aerial survey of a large area, they pay particular attention to the following steps:
Provide information of the terrain you want to photo. Use satellite and other clips to identify potential barriers to the drone while flying, and to select an appropriate location to take off and landing. Also, obtain information on the type of airspace and restrictions that apply there.
Create a flight plan and select the correct flight parameters to ensure data quality and maximum battery life. It contributes to this, e.g. if we define a simple polygon without sharp corners for the flight range.
Decide on altitude parameters. Flying at higher altitudes allows for better coverage per battery, which can be especially important when covering large areas. However, the higher the altitude, the lower the ground resolution. Because of this, it is important to agree upon survey parameters and set expectations for ground resolution with your client prior to flying, and balance this out with your battery needs.
Set a minimum 70% overlap. Maintaining a minimum 70/70 side/front overlap will give processing software a better chance of tying together points between images.
Fly lengthwise. Whenever possible, orient your flight lines lengthwise, i.e. — parallel to the longest edge of your flight polygon. This allows for clear edges without wasting time by turning more corners.
If you are flying in moderately windy conditions, do consider the direction of the wind. As a general rule, you should avoid flying across the wind, since it increases the likelihood that the drone's legs will angle into the camera's field of view.
Before the flight, make sure that the meteorological and other conditions are conducive to safe flying, and obtain all the information necessary for flight planning.
Before flying, check the value of the geomagnetic index Kp, which is a measure of rapid and irregular changes in the geomagnetic field due to the geomagnetic storm on the Sun. A high value of the Kp index can be the reason for the drone problems with orientation, data transfer and tracking the satellites. All of this causes a loss of time for repairs, the need for a repetition of recording, etc., which can be a big cost for aerial survey of large areas.
Divide a large area into several segments, so that for each one we can meet the security rules and the capacity of one battery is sufficient for it. With additional batteries, with which you replace empty, you gradually record all segments. Therefore, a sufficient supply of full batteries is required.
Check data in the field. Despite the best preparations, data quality issues do still occur. Cameras malfunction and fail to take pictures, GPS doesn't geotag images correctly or photos end up overexposed. Aerial photos and their quality should be checked when we are still in the field and not just in the office. Thus, you save time instead of the flight repeat.
Include your own control steps for controlling and checking the quality of each phase of work. This makes it easier to handle possible problems and ensures a smooth workflow. During the planning process, you should also examine the economic aspects of the aerial survey with an unmanned aircraft and recalculate when it is more economical to use a larger plane with a crew on board.