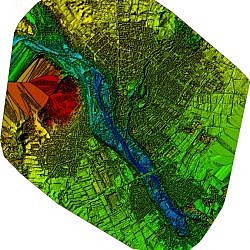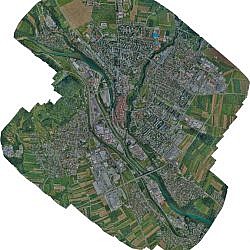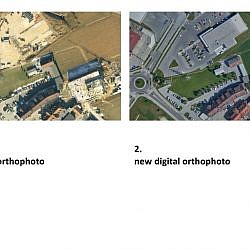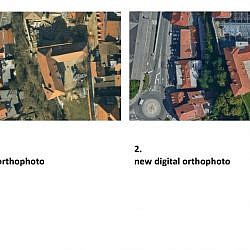 Updating the raster layer of the Kranj municipality spatial information system
In recent years, multiple developments and modifications in terms of use of space occurred in the area of the Kranj municipality. The city of Kranj acquired several new infrastructural and other construction facilities. Due to all of the new features and changes in the use of space, revisions had to be made in spatial data as well. The city of Kranj decided to bring its infrastructural records up to date since the old ones no longer reflected the actual situation on the site.
Geavis was tasked with the renovation of the raster orthophoto layer in the spatial information system of the Kranj municipality, which needs updated records in carrying out its successful operations of municipal services. The city of Kranj wanted to acquire a digital orthophoto of higher quality since the old ones from 2009 and 2010 were poor resolution only 10 cm/px.
The city of Kranj is situated in the area with flight restrictions in place for unmanned aircrafts, i.e. they may only be flown up to the altitude of 50 m, which is lower than some of the buildings. For this reason, aerial photos of the site were taken by Aerovizija, a company licensed for aerial recording with a manned aircraft and at higher altitudes over built-up areas.
In collaboration with Aerovizija, we obtained aerial photos of the entire area of the city of Kranj during only one day. Through georeferencing, the aerial photos were then properly orientated and placed within the National Coordinate System. For georeferencing, we used 31 control points from the geodetic reference network obtained through GNSS measurements.
Georeferenced aerial photos enabled us to create a flat orthophoto plan of better quality and higher resolution in comparison with the existing material of the Kranj municipality; namely, the old orthophoto plan's resolution was 10 cm/px, while the new plan's is 5 cm/px. The improved resolution makes it easier to identify details directly from photos and saves us multiple on-site visits that were necessary in the past when images were of lower quality and needed checking things on the spot.
The professional technology of point cloud density enabled us to make a highly detailed digital surface model (DSM), from which we were able to create a true orthophoto, where the objects located above the site are depicted spatially correctly. Among other things, this means that no building is blocking the view of the terrain at its base, no matter how high. The Kranj municipality will use the true orthophoto as one of the substantive components within its spatial information system. It brings the company numerous benefits as they can use it to conduct planimetric measurements, place various vector layers on it (e.g. municipal lines) or to cover 3D models, for example.
Technical specifications
Location: the City of Kranj, Slovenia
Area size: 941 ha
Average GSD: 5 cm
Resolution: 5 cm/px
Number of aerial photos: 1605
Number of 3D points: 90.000.000